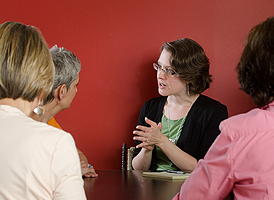 Multi-Element Behaviour Support (MEBS)
This practical workshop provides an overview of the Positive Behaviour Support Policy of SJOGCS, and outlines the 10 principles of Positive Behaviour Support and the Multi-Element Behaviour Support (MEBS) Model for children and adults with intellectual disability with behavioural support needs. It introduces a 3-Step model for the provision of PBS and practical ways for participants to work within a Positive Behaviour Support Culture and Framework as required by the Health Act 2007 and our SJOGCS policy. The workshop will explore:

·
The role of person centred planning using the Wheel Of Optimal Living; 10 Principles of PBS and the MEBS model;
·
How incident reports, ABC forms and data collection can identify unmet needs; Brief Functional Assessment to find the 'function' or message in the behaviour of concern;
·
How to develop and implement a MEBS plan with examples of the variety of interventions
·
Working with individuals, families, colleagues and MDT members through the MEBS process of assessment, plan development, implementation and evaluation
· Self-Reflective Practice and self-care for building resilience and well-being.
The workshop is delivered using zoom and will include lectures,

off line exercises and group work and is suitable for anyone who

wishes to learn more about SJOGCS Positive Behaviour Support

Policy and the Multi-Element Behaviour Support Model.

Who should attend?
This course is suitable for anyone who wishes to learn more about Multi-element behaviour support as a model of Positive Behaviour Support for individuals with intellectual disability and behaviours that challenge. This course is a registered CPD event with Psychology Society of Ireland.

Date: 7th September, 12th October & 2nd Novovember, 2021.

Time: 9:30 a.m.-4:30 p.m.

Venue: In line with Currrent HSE Covid 19 guidelines this is a Zoom Training Course.

Cost: €100.00 euro- (Free to Saint John of God Community Services Employees)