New Privacy Notices
Please check out our new privacy notices for webpage visitors and for people using Callan Institute Services
Read More
Let Us Know What You Think!
In Callan Institute we want your feedback. We are always learning and want to know from you how we can do more. Do you have a comment, compliment or complaint?
Read More
Callan Institute 2019 Training Schedule
If you are interested in Positive Behavoiur Support (PBS) or Friendship, Relationship & Sexuality (RUA) Training, 2019 dates confirmed.
Read More
e-learning course on Positive Behaviour Support
Do you want to learn about positive ways to change behaviour with children and adults with an intellectual disability and behaviour of concern? Yes, this foundation course for you.
Read More
Systematic Instruction Training Dates 2019.
Building Capacity through Skills Teaching: This course supports the teaching of skills using applied behaviour analysis....
Read More
Parents Resources on Identity, Friendships, Relationships & Sexuality.
These resources are designed to provide Parents with the information, confidence and skills to talk about growing up, relationships and sexuality to their children, teenagers and young adults with intellectual disabilities.
Read More
Positive Behaviour Support for Children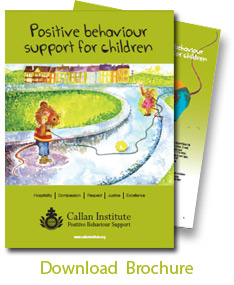 Do you want to know more about how to support a child with difficult situations? Our new leaflet is now available to explain how. Click to download a copy.
Read More
Callan Facebook Page
Callan Institute Facebook Page has new posts every day. Keep up to date with events, tips and resources by visiting and liking us.
Read More